Every healthcare and wellness organization needs cultural competence training, no matter what. Being able to view clients and patients with an awareness of their cultural background has a huge impact on your agency and also on each person's health.
Cultural competency allows your team to bridge a gap between the people in your community and the healthcare system.
Health Disparities in Populations
This gap in care is down to bias blind spots—sometimes intentional and sometimes implicit or unconscious bias—that leaves out wide swaths of the population.
Too many people have vastly different healthcare experiences because of their race/ethnicity, income, geographic location, sexual preference, or other characteristics. These differences often lead to health disparities in populations.
More African Americans and Latinos, compared to whites, have at least one of seven chronic conditions:
asthma
cancer
heart disease
diabetes
high blood pressure
obesity
anxiety/ depression
Some of this is because they don't get treated quickly or at all, compared to white populations.
Hybrid learning is here to stay. This e-course covers everything you need to know about how to prepare for a hybrid learning project, from earning buy-in to the must-have elements for successful virtual collaboration. Access it here.
Assessing Cultural Competence in Healthcare
Closing the gap in cross-cultural situations means that every single patient or client gets the care they need. Skipping cultural competency training is a sure way for those patients to fall into the gap.
Properly training healthcare and wellness employees will have better self-awareness of their own biases and the ways that their clients receive inconsistent care based on their cultural beliefs and behaviors.
Knowing that you need cultural competence training at your work is step one. Assessing in what areas individuals might need extra training is step two.
Below is a checklist you can use as a basic starting point to see what are the general goals of a competency training program and where you might need help. Here is a list of many more assessments specific to different languages and working situations for a deeper dive.
Print out or save copies of this checklist and give it to your team members. Let them know that it's not a quiz, it's just a tool for assessing. They don't need to add their name or even show it to you if they don't want to. It's just a way to rate a person's level of cultural competency. Start now by taking it yourself.
Cultural Competency Self-Assessment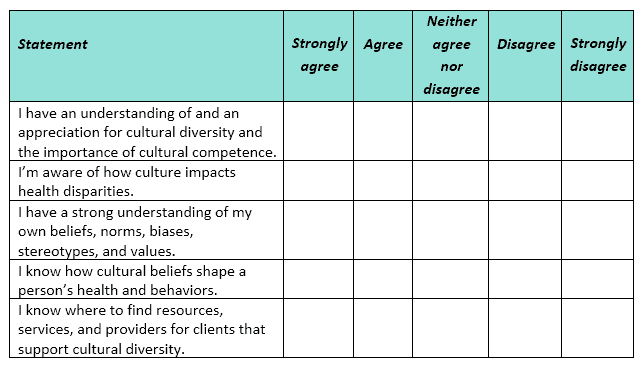 Look at the number of checks in the "strongly agree" and "agree" columns. These reflect a higher level of competency. Think about signing up for training to improve those areas where there are checks in "neither agree nor disagree," "disagree," and "strongly disagree."
Ongoing Training
Cultural competency training isn't a one-and-done event. Learning is a process with plenty of on-the-job practice that should extend throughout a person's employment. Make sure you're following the National Standards for Culturally and Linguistically Appropriate Services (CLAS) in Health and Health Care (PDF) and put together an ongoing training plan to keep improving.
Your community's health will improve.
Online Learning: Beginner's Guide for Health Agencies
Your Online Learning: Beginner's Guide for Health Agencies includes everything you'll need to launch a successful online learning program for your staff.