Timing is everything when it comes to breast cancer. Early screening and detection can save a life, and dealing with a diagnosis requires knowing what to expect and when. Susan G. Komen knows all this, and they also know that patient navigator training for breast cancer is the key to improving outcomes in detection and treatment.
The challenge is making sure those navigators have access to the right training to improve the quality of care among patients in underserved communities.
"Many [patient navigators] lack specific training in breast health and/or cancer and/or navigation itself," says Julie McMahon, director of mission at the Susan G. Komen affiliate in Columbus, Ohio. 
The patient navigator online training program at Ohio's Susan G. Komen Columbus improves the quality of care for women receiving abnormal screening results with 100 percent satisfaction for participants. The organization's ultimate goal is to reduce the number of women who fail to follow up on treatment and improve outcomes.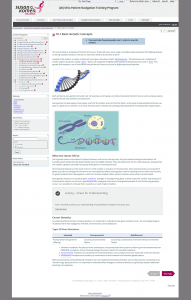 McMahon's program launched an elearning program to improve skills among patient navigators around the state. You can read more details in the case study, but here are three top takeaways you can apply to your own program right now:
1. Balance independence and collaboration.
The people who signed up for Komen's program distributed all around the state—and Ohio is a big one, with remote pockets. It ranges from urban areas like Cincinnati to remote Appalachian counties.
Bringing everyone together for three months for training is a realistic impossibility, so the solution was to offer courses online, and then supplement learning with plenty of opportunities for collaboration. So, while people worked independently most of the time, they came together for key events, namely:
"Meeting" each other during a live kickoff webinar
Talking about weekly assignments in discussion forums
Concluding the training program with a live conference call featuring case presentations
This mix allowed patient navigators the flexibility to work when it suited them (at work, at home, during breaks from seeing patients). It also gave them opportunities to ask each other questions, check in with the expert facilitator and create a collaborative learning environment.
2. Let people learn from each other.
Collaboration was an important part of the training program, because it opened up the doors for peer-based learning. Participants in the program had a wide range of experience: some were brand new at their jobs with little experience, and others were veteran nurses who had years of on-the-job experience. Many of them had personally faced breast cancer challenges and were driven to help others who find themselves in similar situations.
Creating opportunities for participants to talk to each other on calls and write to each other in forums let them share experiences and build off the basic skills that were in the course.
This is where many self-guided learning programs—those where participants click through screen after screen—fail. If everyone is working independently all of the time, they never learn tips and tricks that their coworkers have discovered. This collaboration is particularly useful in jobs like patient navigation, where community partners and resources are so valuable to clients and patients.
3. Find the right topics for the job.
The evaluations that came out of Komen Columbus's program had extremely high ratings. People said they were 95 percent satisfied with the program and they found that 100 percent of what they learned was relevant to their job.
The moral? If you want training that sticks, make darn sure it's relevant. It makes for happier participants who can immediately take what they learn and  apply it to their job.
In this case, the program covered these training modules:
How to learn online and introduction webinar
Organizational and documentation skills
Disparities and social determinants of health
Assessment skills
Breast Continuum of Care (from intro and diagnosis methods to treatment and survivorship)
Navigating Health Insurance
Service Coordination
Breast Cancer Genetics and Genomics
Health Coaching and Motivational Interviewing
Resources, wrap-up and case presentation
Follow these smart practices to any program you have, and you have a much higher chance of making it a success.
Want to learn more? Read about how their online training program was created.
Originally published June 22, 2016, updated October 23, 2020.