Whether you're looking for a remote training agency to create a brand new course or convert one from a different format, you could need to issue a request for proposal, or RFP.
Most agencies, especially healthcare organizations or projects, don't have the capacity to do everything internally. They don't have the instructional design development team at hand to create courses for the staff or other audience members. You might need to look around for some extra help.
An RFP is a path to collect offers from training development vendors and then use that information to pick one that best matches your project.
Online Learning: Beginner's Guide for Health Agencies
Your Online Learning: Beginner's Guide for Health Agencies includes everything you'll need to launch a successful online learning program for your staff.
Why Create an RFP
A request for proposal is a convenient method for collecting information and helping you to get to know other agencies better.
It's also a way to avoid miscommunication. An RFP gives you a chance to spell out your wish list. RFPs have sections for different areas of your project (more on that below), including background, scope of work, budget and more. This will help your vendor better understand your needs so they can make good recommendations for your online learning project.
Going through the process of filling in all these RFP sections provides a structured approach you can follow to collaborating internally and communicating with your own team. It should push you to work with other stakeholders to find out their needs and goals so that you're all working together even before you start developing your new course or curriculum.
RFP, RFI, RFQ and Other Terms
The world of vendor contracts is full of acronyms. Before getting into each part of a request for proposal, it can help to understand the other related kinds of documents you could write. Maybe one of these fits your needs better.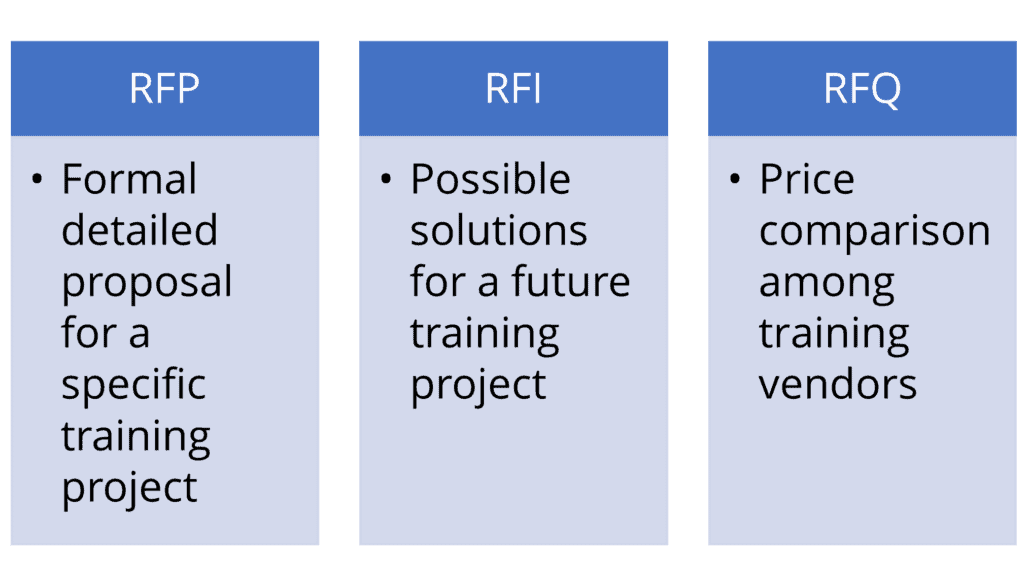 Request for proposal (RFP) – a document that asks for proposals from vendors. A selection of a winning RFP is usually through a bidding process. An RFP lets you compare one vendor with another.
Request for information (RFI) – a request, usually a questionnaire, sent to potential vendors to find out what kinds of products and services they offer. This gives an agency like yours an idea of what might be available. An RFI isn't an invitation to bid—it's only a way to get information and might not even lead to a project. An RFI educates you about solutions.
Request for qualifications (RFQ) – a request for capabilities that usually goes out before an RFP is sent. This document helps you assemble a potential group of vendors. This is sometimes used in government contracting.
Request for quotation (RFQ) – A method of asking for possible prices for a project. This is useful when you're concerned about cost. An RFQ lets you quantify a project by gathering budgetary information.
Sections of RFP Documents and Examples
Now, have a closer look at the most common sections of an RFP document. Your project could have specific requirements, but these are included in most RFPs for training.
Background/Introduction
Project Goals
Deliverables and Description of Services
Schedule
Time and Place of Submission of Proposals
Timeline
Elements of Proposal
Selection or Evaluation Criteria
Budget
Background/Introduction
The request for proposal should start with an introduction and a background about your agency. It should provide an overview of the overall goals of your agency and what you do. Also include practical information, such as where you are located.
Here's an example of detailed background and introduction from the Judicial Council of California. This organization sent an RFP for "Curriculum, Trainings, Registration, and Distance Learning on a secure platform" and some "Court Resource Guides" for a Mental Health Training and Technical Assistance project.
Their background information is very well organized.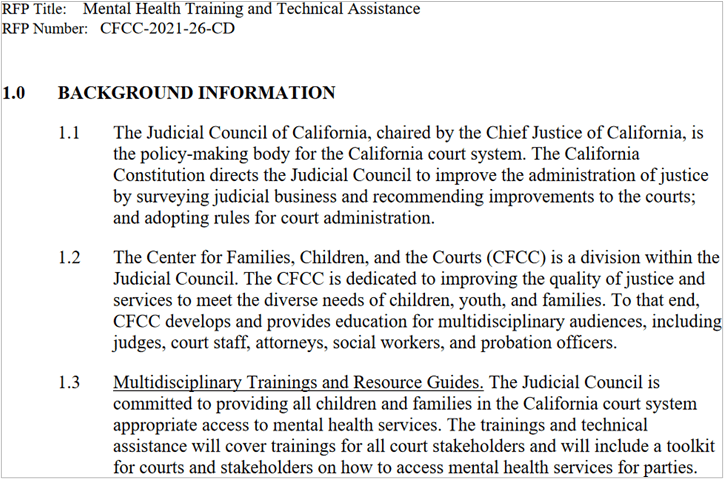 Project Goals
The project goals section of your request for proposal should outline the project that you want to be completed. Try to be as specific as you can, because this is the section that helps you know you've met your objectives and gives a vendor what to work toward.
Sometimes, project goals are grouped in with the background information.
The City of Versailles in Kentucky issued an RFP that folded training services into a project for its energy department. The goals and objectives in their document are succinct—just as goals should be.

Deliverables and Description of Services
Here, the New York State Education Department describes a clear list of each deliverable for this large-scale project, from the development of 60 learning modules all the way to hosting the courses.
Selection Schedule
Vendors want to know when you make your decision, so tell them. Include a selection schedule that shows a breakdown of your team's timeline.
Look at this solicitation timeline example from Alameda County Water District, which was looking for employee development training. Their timeline leaves no guessing.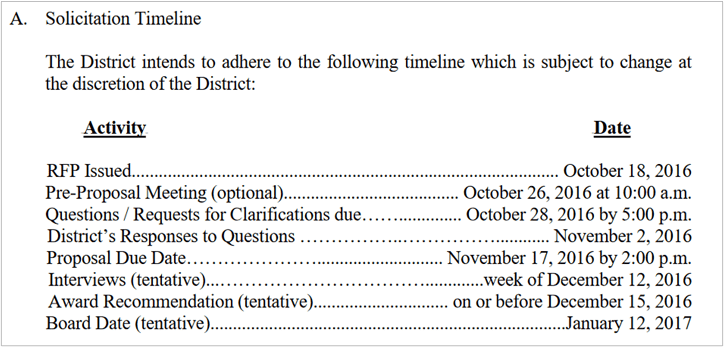 Time and Place of Submission of Proposals
This section of the request for proposal is similar to the timeline section. You'll want to be very clear with vendors about where and how they should submit their proposals.
Most proposals now are submitted electronically, either as an email to a point person or uploaded to a website.
The Native American Fish and Wildlife Society, looking for a consultant to develop a training program, keeps submission instructions simple and to the point.

Timeline
The timeline is different from either of the two above sections, because it tells training vendors when the completed project should happen. This could depend on a cohort you have coming through, grant requirements or other criteria.
Whatever the reason, it's helpful for instructional design companies to know when you aim to have the training program run so they can compare it with their internal schedule. It's also a good way to determine if it's a realistic schedule.
The City of South Portland put together a project for Restorative Practice Course for South Portland Middle and High School Teachers. Their timeline is brief and clear.

Selection or Evaluation Criteria
Come up with a list of what you require for the project and then work with your team to rank them. This list of requirements from respondents will help you when it comes time to compare submissions.
Here's a quick example of what selection criteria could look like from a project management training RFP from U.S. Agency for International Development (USAID).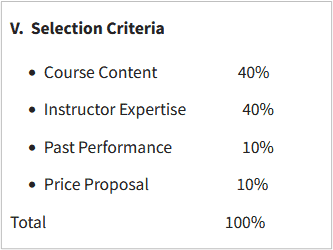 Budget
Your gut may be to not include how much you're willing to pay. But let submitters know what you can afford to put into the project so no one wastes their time.
Erie County in New York released a request for proposal for employment and training services for up to $986,600.

Now it should be easier for you to create your next training RFP. Include these items as a minimum, and you'll be sure to get the best bids and better clarity about what you need in the process.