Remote training doesn't really lend itself to "winging it." You can't really see how your training investment will pay out without careful planning. Developing any online course calls for careful planning, staffing, building, and evaluation. It's a circular process that should go on during the lifetime of any remote learning project.
Thankfully, you don't need to wing it when it comes to tracking that circular process. If you remember to follow ADDIE, you'll be set up for success. This is a blueprint that's designed to organize the process and guide the team to the next step in the easiest way possible.
We delve into the process more deeply so that if you're preparing for your next online learning project you can understand how this blueprint works and how you can use it yourself.
Click here to read Virtual Training: Top 10 Questions From Program Managers and Directors
What is ADDIE?
ADDIE is an acronym that stands for Analyze, Design, Develop, Implement, and Evaluate. ADDIE is a model in instructional design that can help think about and plan a course design. While it seems rigid, the model can be adapted for many projects and can be adapted depending on what kinds of materials you already have.
The ADDIE blueprint provides the structure for many online course projects.
The "I" in "implementation" is what happens after the project has moved out of the development stage: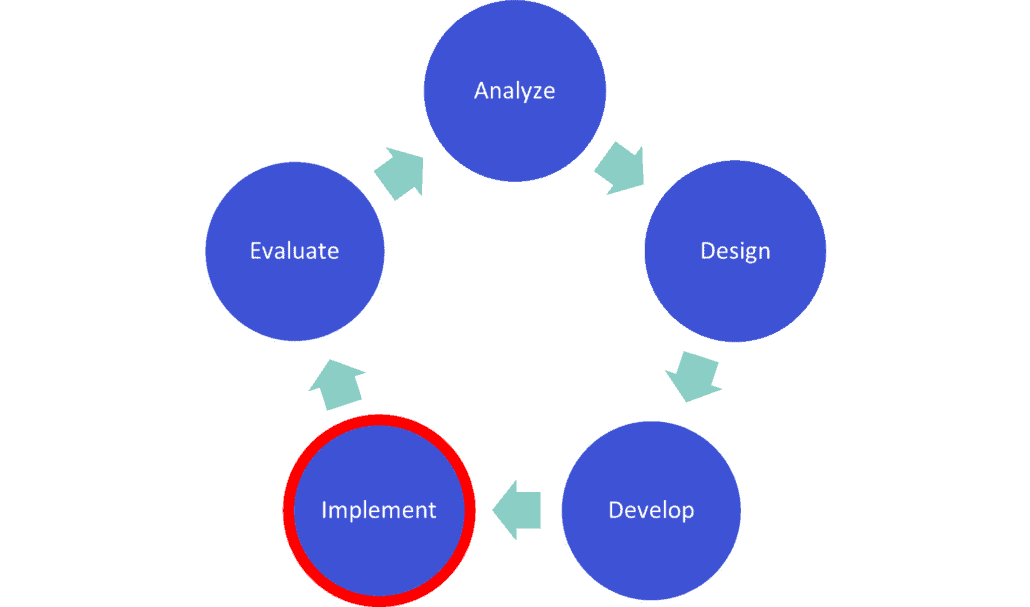 How online training projects are implemented
The implementation phase of an e-learning project is when the instructional design team has completed building the online course. Then, it can be put into practice on a training platform or environment and with a live learning audience.
This debut allows the team to make sure the training project meets all its learning objectives.
Each remote training project is unique, and this process can be customized for each one's needs. However, most projects' implementation phase follows the steps of setting up the learning environment and making sure the administrators, trainers, and learners know what to do to complete the training.
4 Implementation Steps Before Launching Your Online Course
Let's take a closer look at the steps involved in the implementation phase.
1. Setting up the learning environment
Before the training program can be delivered, you'll have to figure out where to deliver it. When you've figured out what the learning environment is, then you can get it ready for people to complete the training with it.
For Talance's projects, the learning environment is usually a learning management system (LMS) that lets people log in and follow training. But a learning environment can be any place where people learn. It can include:
LMSs
Classrooms
Online meetings, such as Zoom
Auditoriums
Phones
Hybrid environments
Each of those environments needs their own setup process that probably includes a plan, a team, a checklist, and a few rounds of testing. It could include such tasks as arranging desks or tables, setting up projectors, setting up and testing audio equipment, configuring schedules, uploading online learning objects, and creating notification messages.
In any event, it needs to be prepared for teaching so everyone knows what to do when the course starts.
2. Training instructors or administrators
Instructors and administrators need to know what to do when the course begins. So people who will facilitate the course or who will manage enrollment and registration need training.
Both instructors and administrators need to know about how to use the platform (in the case of an online learning environment, like an LMS).
Instructors usually need an extra level of training that covers the course curriculum, content, messaging, learning objectives, and assessments. They should also know about a schedule and different ways to interact with learners.
Examples of what admins and instructors need include:
Course requirements
An evaluation calendar
Educational resources (PDFs, videos, slide presentations, and more)
Logins and credentials for any program you'll provide (your LMS, company email, etc)
Guides or tutorials for the software
Contact information for instructors and admin staff
3. Preparing learners
In addition to administrators and facilitators, learners should also go through some kind of training and preparation so they have a greater chance of success in the training. They should know …
How to register or enroll in the online course
What training equipment they need
What they need to do to complete the training (take quizzes, log in, operate instruments or equipment)
We frequently offer an online learning assessment. This lets learners and instructors will be able to identify their strengths and weaknesses.
To start, we send every learner an orientation quiz that asks participants to rate themselves in these areas:
Comfort taking an online course
Uploading and downloading files
Researching information online
Sending and receiving e-mails
Participating in discussion forums and message boards
Experience using video conference tools (Zoom, Skype, Google Meet)
Prior to the course, make sure to check the technical requirements as well. Do they have the hardware and apps they need for the program? If not, can they secure it on time and on their own? Doing this before the course begins means you can correct courses early on. Otherwise, you may face interruptions and delays during the program.
Some of this preparation happens before the learners even step foot inside the training environment. But the trainer or facilitator also has a big hand in making sure learners have an orientation so they can complete what's expected of them.
4. Pilot testing
When planning for a new training project, it's always important to test the course with a pilot group before officially launching it. This is a process that many online training projects skip, or don't follow completely.
The risk with creating online training is that the people creating the courses are rarely the same people taking the course. That means the course can be irrelevant or miss critical information that learners need.
If you do this early in the process, you can save development costs by avoiding learning gaps and fixing issues early in the process. Programs that subscribe to our courses also pilot their choices. That way, they know if they're making the right selection for the right audience.
Here are some best practices we follow with our partners and clients so they can pick the right pilot group and maximize its value.
When the implementation is done and the pilot has been completed, you'll be on the road to success. You can move on to the evaluation stage so you can collect feedback and put it into improving the course.