Best practices for communicating better with learners and staff in online courses.
Imagine being a patient and meeting with a healthcare provider for the first time. Your consultation might be rushed, you're unfamiliar and by the environment, and the language new and confusing.
If that provider doesn't have the best communication skills, it can add up to an unrewarding experience.
Recommended Reading: How To Make Your Online Training Less Intimidating
That confusion is what many people feel when they take an online course. Online learners, just like patients in a doctor's office, need good communication for a positive experience.
If you're an administrator or facilitator for an online training program, think about how to communicate with your readers in a way that connects, informs, and extends the learning experience.
Communicating with online learners—through such channels as announcements, emails, texts or forums—is especially important because you can't use the power of nonverbal communication. Normally, you can use the tone of your voice or facial expressions to reinforce your meaning. But when the only way you have to connect is with words, you'll have to give extra thought to how to connect.
Sometimes, the people in charge of enrolling and disenrolling people into a course, for example HR representatives or program managers, might not think communication is part of the job. They're wrong!
Clear communication should be part of your overall training strategy, even if you didn't create the curriculum yourself. Any exchange you have with your learners should support what they're learning and make it easier for them to understand content.
Here are five ways you can improve your communication skills to connect better in online courses.
5 Ways To Communicate Better in Online Courses
1. Use Announcements Effectively
The Announcements feature of an online learning management system (LMS) is a central part of any online course. Announcements are the primary way you can establish your presence.
They provide the clear communication students need when they go into a classroom. They let you connect with participants, lead the group, and set the tone for what they're about to learn.
Announcements lets you post messages to learners and staff who are enrolled in your course. Depending on how you use them, you can also set announcements to be delivered directly to learners through email or RSS.
An announcement is often the first thing someone sees when they log into a classroom. Because they're the first thing that anyone sees, announcements should be useful.
Here's a simple example of a reminder to complete course evaluations: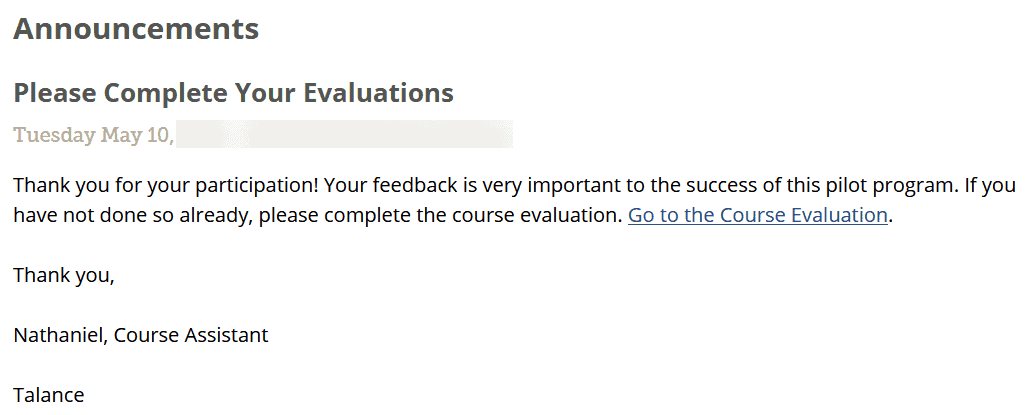 You can also use announcements to build rapport and increase course engagement. This example shows the instructor's personality and also creates a connection with each learner and the group.


2. Avoid Acronyms and Jargon
Any training curriculum can be full of specific jargon and acronyms—especially healthcare. The glossary is the place for those—not in general communication. Assume your students are there to learn, so make sure you spell out phrases and skip buzzwords.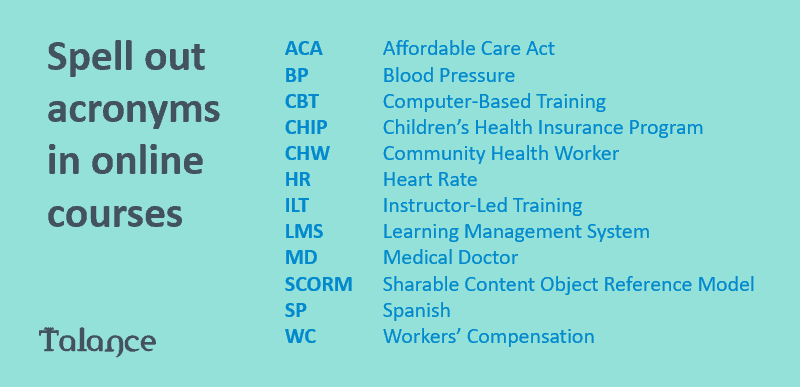 3. Communicate Often—but Not Too Much
While some course managers neglect communication tools, others over-communicate. Checking in too often or leaving too much text can have the counterintuitive effect of making learners check out. They'll learn to ignore overly frequent messages or glaze over when looking at a wall of text.
Consider if the medium for the message. Is the Announcements feature the best place for it? Should you be writing an email to an individual or a team? Should you post something in the forum to increase peer learning and interaction?
4. Use Meaningful Imagery
Written communication is essential, but an image can get your idea across in an instant. It's human nature to notice a graphic, especially among a string of text (we're betting you saw the picture above).
Knowing that and using imagery strategically can help you increase communication and understanding in an online course.
Before you start adding images in your announcements or emails, ask yourself if they're really adding to the communication. Here are some questions you can ask yourself before you add something to your course:
Does the image help communicate something important in the curriculum or content?
Are there too many images?
Does the image make sense in the context?
5. Plan Your Communication
It's a good idea to plan out your communication in a course just as carefully as an editor plans articles in a newspaper. It will help you stay on schedule, think clearly about what you're communicating, and do the work up front.
For example, you could always post a wrap-up message on Thursday afternoons. You might always send an email with a link to the gradebook on Monday mornings.
If your LMS has a date release tool, such as Talance's Schedule Course Mail, you can write all your announcements or emails up front, set the dates when they're to be delivered, and then let them go automatically in time with the training session.

Brochure vector created by katemangostar – www.freepik.com
https://talance.com/wp-content/uploads/2020/12/Post-TLNC-Dec-11.png
428
640
Monique Cuvelier
https://talance.com/wp-content/uploads/2020/04/TalanceLogo.png
Monique Cuvelier
2020-12-11 08:00:00
2021-03-12 18:41:27
5 Ways to Improve Communication in Training